Larry W. Reaugh, President and Chief Executive Officer of RecycLiCo Battery Materials ("RecycLiCo Battery Materials" or "AMI" or the "Company"), (TSX.V:  AMY; OTCQB:  AMYZF; FSE:  ID4), is pleased to announce that the Company has successfully completed the recycling of 100% of Cathode Materials (Co, Ni, Mn, Al) and 92% of Lithium from its US Patent Pending recycling application.  Also, the Company produced rechargeable Lithium Ion Cobalt and Lithium Nickel Manganese button cell batteries from its recycled cathode material.
On January 19, 2017, the company posted the monetary values (per 500 kg) of the metals recovered from Electric Vehicle Lithium Ion Batteries ('LIBs').  The Company updates the values as follows: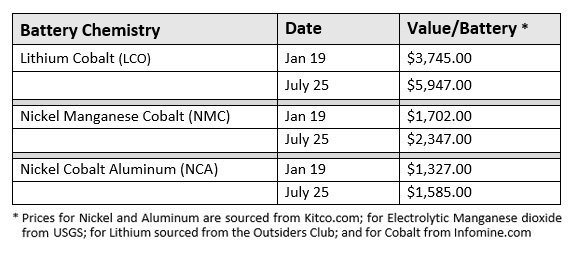 The significant increase in spent electric vehicle battery value is due to the increase in the price of cobalt from $35.02 to $58.50/kg over the past six months.  "Cobalt is currently under severe supply side pressure, and is expected to remain undersupplied," said Mr. Reaugh.  "According to the Cobalt Development Institute the battery industry consumes 41% of global cobalt supply (2015).  Over the next ten years that usage is expected to increase to above 65%.  With such a significant increase in anticipated demand, recycling is poised to be an important part of the supply solution to the emerging cobalt shortage."
Management has been studying ways to capitalize on the company's technologies working toward developing positive cash flow.  One such opportunity may exist in recycling unused cathodes.  Industry sources have shown that up to 10% of manufactured lithium-ion battery cathodes are rejected for use.  The rejected cathodes, termed "scrap", consist of the aluminum foil backing and the cathode metal powder which we believe can be recycled into usable cathode material using AMI's patent-pending process.  The company has been offered these scraps (at a cost) by recyclers.     
Additionally, and as part of this effort, in early 2018 AMI intends to build and begin operating a pilot plant to prove continuous recovery of cathode material, with the ability to scale up and design a full-scale recycling plant.   Construction of a hydrometallurgical plant capable of recycling scraps would have the following advantages over recycling spent Lithium-Ion Batteries:
Up to 4,000 tons/year of cobalt, with a current market value of over US$230 million, could be recycled annually.
Other valuable cathode metals such as Ni, Al, Li and Mn, will also be recycled from the various cathode chemistries.
Capital and labor required for the initial plant would be lower as no disassembly of batteries is required.
Recycling cathode metals leaves a much smaller footprint than a traditional mining plant for recovering metals from ores.
AMI's closed loop process conserves water and does not release toxic waste streams into the environment.
The process would be demonstrated on a commercial scale, so that full-scale industrial facilities can be engineered and costed out.
AMI has yet to determine the location of the process plant, as it could be sited anywhere in the world where EV battery manufacturing is occurring.
About Kemetco Research Inc.
Kemetco Research is a private sector integrated science, technology and innovation company. Their Contract Sciences operation provides laboratory analysis and testing, field work, bench scale studies, pilot plant investigations, consulting services, applied research and development for both industry and government. Their clients range from start-up companies developing new technologies through to large multinational corporations with proven processes.
Kemetco provides scientific expertise in the fields of Specialty Analytical Chemistry, Chemical Process and Extractive Metallurgy. Because Kemetco carries out research in many different fields, it is able to offer a broader range of backgrounds and expertise than most laboratories.

About RecycLiCo Battery Materials
RecycLiCo Battery Materials is a diversified specialty and critical metal company focused on capitalizing on its patented intellectual property through low cost production or recovery of electrolytic manganese products throughout the world, and recycling of spent electric vehicle lithium-ion rechargeable batteries.
Interest in the Company's patented process has adjusted the focus of RecycLiCo Battery Materials toward the examination of applying its patented technology for other purposes and materials.  RecycLiCo Battery Materials aims to capitalize on its patented technology and proprietary know-how to become and industry leader in the recycling of spent electric vehicle lithium-ion batteries having cathode chemistries such as:  Lithium-Cobalt, Lithium-Cobalt-Nickel-Manganese, and Lithium-Manganese (Please see the Company's January 19, 2017 press release for further details).
On behalf of Management
RecycLiCo Battery Materials
Larry W. Reaugh
President and Chief Executive Officer
Share This Story, Choose Your Platform!
The Toronto Stock Exchange has not reviewed and does not accept responsibility for the adequacy or accuracy of this release. This news release may contain certain "Forward-Looking Statements" within the meaning of Section 21E of the United States Securities Exchange Act of 1934, as amended. All statements, other than statements of historical fact, included herein are forward-looking statements that involve various risks and uncertainties. There can be no assurance that such statements will prove to be accurate, and actual results and future events could differ materially from those anticipated in such statements. Important factors that could cause actual results to differ materially from the Company's expectations are disclosed in the Company's documents filed from time to time with the Toronto Stock Exchange, the British Columbia Securities Commission and the US Securities and Exchange Commission.