Mr. Larry W. Reaugh, President and Chief Executive Officer of RecycLiCo Battery Materials ("RecycLiCo Battery Materials" or the "Company"), (TSX.V:  AMY; OTCQB:  AMYZF), is pleased to announce the highlights of the geochemical prospecting program carried out on its Lonnie and Virgil Rare Earth Metals project, located about 140 km north of Fort St. James, British Columbia.
A total of 8 rock chip and 106 soil samples where taken from two areas surrounding known mineralization.  The first was a 0.2 km X 0.15 km area centered on the Virgil trenches and the second was 1.4 km X 0.5 km area encompassing the Lonnie mineral occurrence.  Of the 8 rock chip samples, 7 consisted of angular shaped, sub-crop boulders and cobbles float.
Rock and soil samples were prepared and analyzed by Pioneer Labs Inc of Richmond, British Columbia.  The analytical method used was lithium borate fusion, acid dissolution and ICPMS analysis for rare earth elements (excluding Promethium).  Trace elements of Uranium (U), Thorium (Th), Yttrium (Y), Barium (Ba), Niobium (Nb), Rubidium (Rb), Strontium (Sr), Tantalum (Ta), Zirconium (Zr) & Titanium (Ti) were also analyzed and results are shown in certificate numbers 2102680.
One rock chip sample contains elevated values of rare earth elements Cerium (Ce), Lanthanum (La) and Neodymium (Nd), and is summarized below: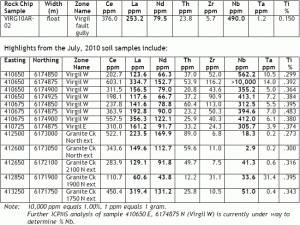 Additional follow-up work planned for Virgil and Lonnie will include detailed geological mapping, geochemical sampling, magnetometer geophysical surveys, and core drilling.  Fieldwork and data compilation of Lonnie-Virgil mineral tenures was carried out by Andris Kikauka, P.Geo., a Qualified Person for the purposes of NI 43-101.
About Rare Earths:
China dominates rare earths production (93%) and consumption.  China has placed quotas on the export of rare earths resulting in a panic by end users, increased exploration and company's such as the Boeing Company contracting out their technology to aid in exploration of rare earth deposits.  The critical situation in Rare Earths was first brought to public attention by Keith Bradsher, New York Times correspondent, in August 2009. Neodymium is identified as one of the more critical rare earths.
About RecycLiCo Battery Materials
RecycLiCo Battery Materials is a diversified specialty and critical metal Company focusing on potentially becoming the lowest cost producer of electrolytic manganese from its Arizona Manganese Project.
This release has been reviewed by Andris Kikauka, P.Geo, a qualified person pursuant to National Instrument 43-101.
On behalf of Management
RecycLiCo Battery Materials
Larry W. Reaugh
President and Chief Executive Officer
Share This Story, Choose Your Platform!
The Toronto Stock Exchange has not reviewed and does not accept responsibility for the adequacy or accuracy of this release. This news release may contain certain "Forward-Looking Statements" within the meaning of Section 21E of the United States Securities Exchange Act of 1934, as amended. All statements, other than statements of historical fact, included herein are forward-looking statements that involve various risks and uncertainties. There can be no assurance that such statements will prove to be accurate, and actual results and future events could differ materially from those anticipated in such statements. Important factors that could cause actual results to differ materially from the Company's expectations are disclosed in the Company's documents filed from time to time with the Toronto Stock Exchange, the British Columbia Securities Commission and the US Securities and Exchange Commission.