Larry W. Reaugh, President and Chief Executive Officer of RecycLiCo Battery Materials ("RecycLiCo Battery Materials" or "AMI" or the "Company"), (TSX.V:  AMY; OTCQB:  AMYZF; FSE:  ID4), is pleased to announce that the Company, having successfully completed proof of concept testing and filing the US Provisional Patent Application, is presently studying potential downstream benefits to guide the Company's next phase of work.  The Company has successfully recycled lithium cobalt cathode material, and is working with Kemetco Research Inc. (Kemetco) to complete recycling bench tests on nickel, aluminum and manganese cathode chemistries and cobalt ores.  Work to date suggests high recovery rates of materials at industry-standard purity levels, ready for reuse.
At current metal prices, the gross contained metal value of the cathode materials in a typical 85 kWh electric vehicle (EV) battery pack, weighing about 500 kg, for the most popular battery chemistries are estimated as follows: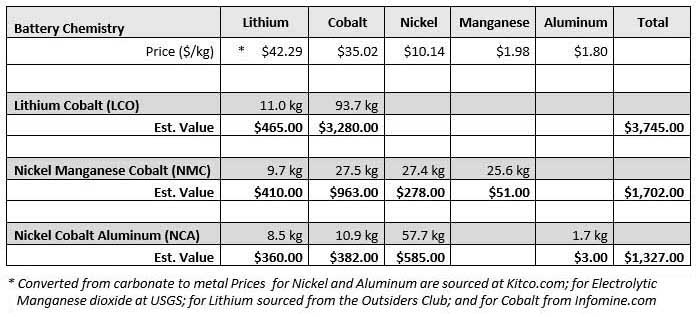 Mr. Reaugh says, "The amounts of metals contained in the cathode materials of a single spent EV battery is significant, and encourages the Company to aggressively pursue its spent electric vehicle recycling research program.  As the EV market expands and drives material demand, this could be a major secure supply source for these strategic metals."
He goes on to say: "Not included in these values is a hazardous waste 'tipping fee' paid to the recycler, typically in the order of about $6.60/kg of battery which equates to $3,300/battery.  Moreover, with additional research it may be possible to directly produce LCO, NMC or NCA powders suitable for heat treating to make cathode material.  Such a synergistic product – turning recovered metals into an advanced material — would likely have a selling price higher than the value of the contained metals."
We caution readers that the above values are estimated gross amounts for the contained cathode material which do not factor in recoveries or operational costs as no studies have been completed on either.
About RecycLiCo Battery Materials
RecycLiCo Battery Materials is a diversified specialty and critical metal company focused on capitalizing on its patented intellectual property through low cost production or recovery of electrolytic manganese products throughout the world, and recycling of spent electric vehicle lithium-ion rechargeable batteries. Interest in the Company's patented process has adjusted the focus of RecycLiCo Battery Materials toward the examination of applying its patented technology for other purposes and materials.  RecycLiCo Battery Materials aims to capitalize on its patented technology and proprietary know-how to become and industry leader in the recycling of spent electric vehicle lithium-ion batteries having cathode chemistries such as:  Lithium-Cobalt, Lithium-Cobalt-Nickel-Manganese, and Lithium-Manganese.
On behalf of Management
RecycLiCo Battery Materials
Larry W. Reaugh
President and Chief Executive Officer
Share This Story, Choose Your Platform!
The Toronto Stock Exchange has not reviewed and does not accept responsibility for the adequacy or accuracy of this release. This news release may contain certain "Forward-Looking Statements" within the meaning of Section 21E of the United States Securities Exchange Act of 1934, as amended. All statements, other than statements of historical fact, included herein are forward-looking statements that involve various risks and uncertainties. There can be no assurance that such statements will prove to be accurate, and actual results and future events could differ materially from those anticipated in such statements. Important factors that could cause actual results to differ materially from the Company's expectations are disclosed in the Company's documents filed from time to time with the Toronto Stock Exchange, the British Columbia Securities Commission and the US Securities and Exchange Commission.